Willow Glen Music School now offers Sing & Ring Music Class.  (After School Music Class)
Playing musical bells can help children activate several areas of the brain at once. Musical toys, and bells in particular, help improve many important skills including language, speech, listening, reading, creative thinking and memory!
Willow Glen Music School is now offering lessons with Singing and Desk Bells combined. Your child will learn not only to sing well, but to do it with the right pitch, while learning to READ MUSIC!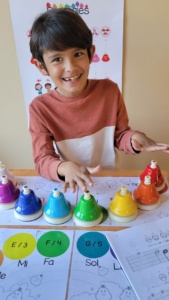 Lessons include:
Introduction to reading music
Play the desk bells
Learn to sing on pitch
Fun, Fun and MORE Fun!
Did we mention that it's fun?
WHAT DO I NEED TO START?
Nothing! Your child can start learning without purchasing any instrument. If you like, when your child joins the class you can purchase a set of desk bells from home for practice, or use a Free Desk Bells App.
It's easy to sign up and all you have to do is click the button below to be taken to the registration form.