Online Virtual Piano Lessons
Virtual Online Piano Lessons – Willow Glen Music School now offers live, private, one-on-one piano classes for your child or children. We offer Online Virtual Piano Lessons 7 days a week!
Online Piano Classes available Seven Days a Week
We offer Online Piano lessons every day of the week, all from the comfort of your own home. We have over 250 students taking virtual lessons with us each week. Your teacher will meet you live each week in the comfort of your own home, to give you a new and fun virtual piano lesson.
Lessons are available from Noon to 8pm PST, and 9am to 2pm PST on Saturday and Sunday.
Watch this video to see a sample of an online virtual piano lesson for a young student:
Benefits of Online Piano Lessons
No Driving! Save time and gas money
Learn on your own piano
Caring and FUN instructors work with you in the comfort of your own home
Virtual Online Piano students miss fewer lessons.
Trial lesson is only $15.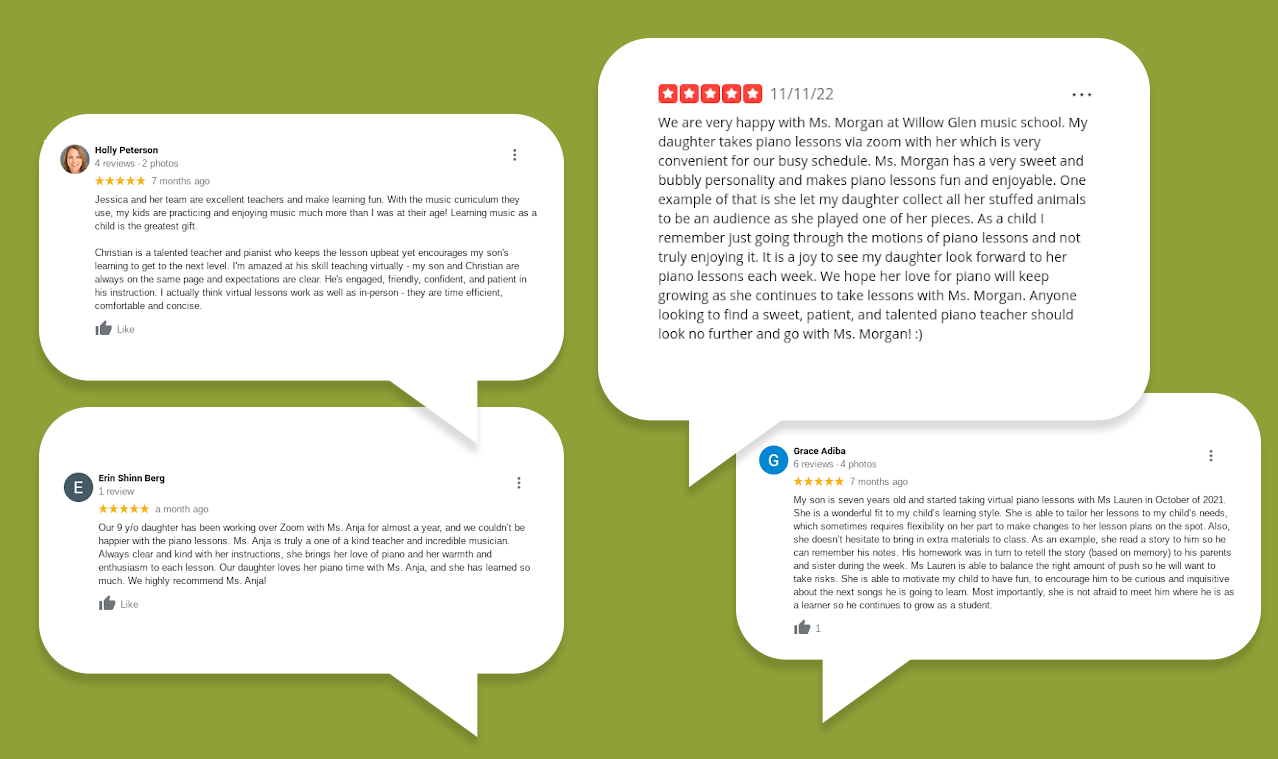 Parents Magazine has an interesting article which shows that music lessons for your children has a significant positive impact.Their list of good reasons to have your child take music lessons is as follows:
Improves academic skills
Develops physical skills
Cultivates social skills
Refines discipline and patience
Boosts self-esteem
Introduces children to other cultures
We offer private virtual online piano classes nationwide and are happy to work with your family to make your child's dream of playing piano proficiently come true.
Visit our Testimonials Page to see what students and parents have to say about us.
Book Your Trial lesson Today

Willow Glen Music School is conveniently located in the Willow Glen neighborhood of San Jose, and serves Almaden Valley, Blossom Hill, Blossom Valley, Cambrian Village, Campbell, Cupertino, Los Gatos, Monte Sereno, Saratoga, West San Jose and of course, Willow Glen.